Gift Certificates And Specials
Current Special:
Until  12/31/17
Up to $20.00 off any Package
Offer ends 12/31/17- Click Here for discounted prices!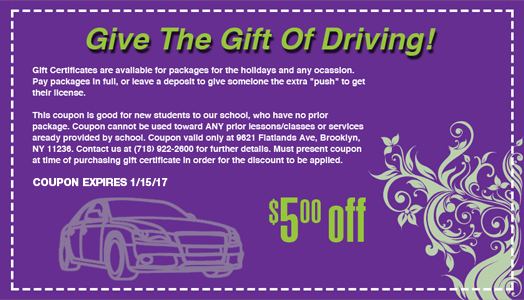 Print This Coupon Using Print Button Below!
Gift Certificates Available
Ever thought of giving someone the gift of that lasts a lifetime?
At Image Driving School, we have gift certificates available to give someone the perfect gift for:
• Christmas/Religious Holidays • Birthdays • Fathers/Mothers Day • Graduations
Or just a gift to give someone that little extra "push" to finally get the courage and confidence they need to get behind the wheel and finally get their license.
We will give you a certificate to give that special someone, and they can come in and start driving anytime they are ready.
Gift Certificates are valid for full one year after purchase.
HELPFUL LINKS
Drivers Manual | Applying For A Permit | Permit Application | ID Requirements | 50 Hr. Form | Pay RT Fees
Contact Us And Reserve Your Spot TODAY!
(718) 922-2600
________________________________________________________________________________________________
Home | Classes/Schedules > Permit – 5HR. – Defensive Driving | Packages/Prices | Contact The Best | FAQ's/Specials
________________________________________________________________________________________________
0